It looks like you missed at least one required field.
Welcome!
Airline Ambassadors International has teamed up with Classroom24-7 and Counter Human Trafficking Compliance Solutions to deliver our Recognize It - Report It human trafficking awareness training program to the air travel industry.
We provide a series of short, impactful online training videos focused on teaching employees in the airline industry how to spot and report human trafficking victims. Our training programs are delivered through a learning platform that provides an engaging learning experience, reinforces key concepts and measures learning outcomes. We make our training extremely convenient – all that is needed is an internet connection.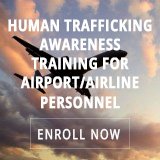 Featured Content
This online course was developed by Airline Ambassadors International (AAI). After correctly identifying trafficking on four flights, in one month, AAI teams have trained thousands of airline employees around the world on human trafficking awareness and have developed a curriculum consistent with …